Hello Readers!
"Christmas Cowboy" is out for Black Friday (earlier than I expected). This novella is part of the
Reindeer Games
multi-author holiday series. Each book is a stand-alone read though, so you don't have to buy them all. But having the entire collection would be cool. The book is only available at Changeling Press right now, but it will be added to all the other book outlets soon.
Use the discount code CyberSale2015 for any purchase at ChangelingPress.com that includes a Christmas or Holiday themed story and take15% off your entire order! Good only until December 1st 2015, so act fast.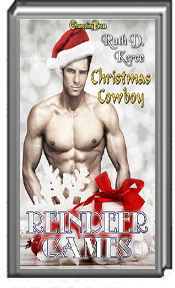 Christmas Cowboy
by Ruth D. Kerce
Copyright © 2015, All Rights Reserved
Published by Changeling Press - Cover: Bryan Keller
Contemporary - A Reindeer Games Story
He breeds horses. What's a cowboy do with reindeer? She knows he can breed & sell the reindeer, if he'll believe. Together they find their miracle and also find love.
Download now from
Changeling
. Let me know what you think of the story. Merry Christmas, readers!