Hello Readers!

A bit of news this month. The first news is that I'll be having a new novella out in early December. It's a holiday story -- Christmas Cowboy. This will release from Changeling Press. I don't have an exact date yet, but probably the first week in December. Watch this blog for a release update.

The next bit of news is that I have a NEW super-duper cover for Xmas Affair (see below). The file has also been reformatted with a clickable table of contents, bio, book list, etc., and the story is now a Kindle exclusive, which means that it's FREE through Kindle Unlimited.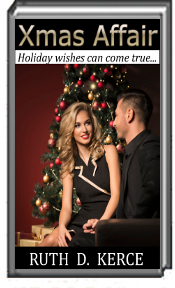 Xmas Affair by Ruth D. Kerce
Copyright © 2011, All Rights Reserved
Published by Ruth D. Kerce - Cover Photo 123rf.com
Contemporary Short Story

Kindle - exclusive availability


Holiday wishes can come true. Julie's holiday isn't feeling very festive this year. There's no hunk for her to kiss under the mistletoe on Christmas. Or so she thinks. Until her one true love unexpectedly reappears in her life. He left her once, and no matter how hot the sexual sparks between her and Jab still are, trusting him again isn't easy. Only after she finds out the real reason Jab left her is she able to open her heart to their love and fall back into his embrace.



XMAS AFFAIR is a 6,000 word short story.
=*=*=*=*=*=*=

See You Next Month!

Home Page URL: http://www.ruthkerce.com
Webmaster/Editor - Ruth D. Kerce (RDKerce@aol.com)

Ruth D. Kerce
c/o Ellora's Cave Publishing, Inc.
1056 Home Avenue
Akron, OH 44310-3502

Ruth D. Kerce
c/o Changeling Press LLC
P.O. Box 1046
Martinsburg, WV 25404






~~~~~~~~~~~~~~~~~~~~~~~~~~~~~~~~~~~~

Copyright © 2002-2015, Ruth D. Kerce. All Rights Reserved.

The newsletter may be forwarded in its entirety to interested parties; however, no portion may be reprinted without written permission from Ruth D. Kerce. Contributed quotes and articles remain the property of each respective author. Please respect all copyright laws.

Commissions/Royalties are received from recommended products contained herein.

~~~~~~~~~~~~~~~~~~~~~~~~~~~~~~~~~~~~