Hello Readers:
Here's a little Christmas gift from me to you. I've appreciated all your support and kind words over the years. I hope to be able to continue producing books/stories for you to read for many years to come.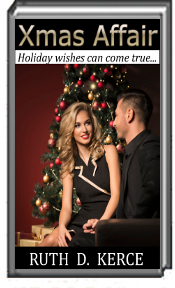 XMAS AFFAIR is a short contemporary, holiday story which I indie published several years ago. It's a sensual romance and a quick read, showing that holiday wishes can come true...
==========
BLURB: There's no hunk to kiss under the mistletoe until a past love reappears in her life. He left her once. Can she ever trust him again?
==========
This story will be free from Dec 23rd thru Dec 27th (if the promo runs as scheduled). Tell your friends!
Download XMAS AFFAIR free (for a limited time) only at:
Amazon
.
Note that this title is currently always free for Kindle Unlimited subscribers.