Hello Readers!

Merry Christmas & Happy Holidays to everyone. I hope that all of you have a joyous and peaceful time with family and friends. I'm also wishing each of you the very best for 2017.

With luck, I'll have some book news in the next newsletter or the one after that at the latest. In the meantime, I do have two Christmas stories available if you're interested.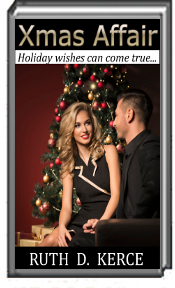 XMAS AFFAIR (Holiday Short Story)

There's no hunk to kiss under the mistletoe, until a past love reappears in her life. He left her once. Can she learn to trust him again? Does she even want to?

Xmas Affair by Ruth D. Kerce
Copyright © 2011, All Rights Reserved
Published by Ruth D. Kerce - Cover Photo 123rf.com
Contemporary Short Story
Kindle - exclusive availability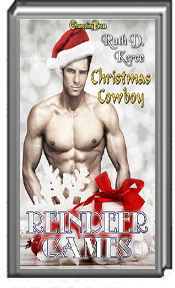 CHRISTMAS COWBOY (Holiday Short Story)

He breeds horses. What's a cowboy do with reindeer? She knows he can breed & sell the reindeer, if he'll believe. Together they find their miracle and also find love.

Christmas Cowboy by Ruth D. Kerce
Copyright © 2015, All Rights Reserved
Published by Changeling Press - Cover by Bryan Keller
Contemporary Short Story
NOOK Kindle AllRomanceEbooks Changeling

The saucy dialogue made me grin - Astilbe, Long & Short Reviews
Delightful Christmas story - Isis, Sizzling Hot Books


As always, I want to say a big thank you to all the readers who have enjoyed my tales over the years. Your support means more than words can say. Until next month, happy reading!
=*=*=*=*=*=*=

See You Next Month!

Home Page URL: http://www.ruthkerce.com
Webmaster/Editor - Ruth D. Kerce (RDKerce@aol.com)

Ruth D. Kerce
c/o Changeling Press LLC
P.O. Box 1046
Martinsburg, WV 25404






~~~~~~~~~~~~~~~~~~~~~~~~~~~~~~~~~~~~

Copyright © 2002-2017, Ruth D. Kerce. All Rights Reserved.

The newsletter may be forwarded in its entirety to interested parties; however, no portion may be reprinted without written permission from Ruth D. Kerce. Contributed quotes and articles remain the property of each respective author. Please respect all copyright laws.

Commissions/Royalties are received from recommended products contained herein.

~~~~~~~~~~~~~~~~~~~~~~~~~~~~~~~~~~~~