Hello Readers!

A little bit of news. Changeling Press is releasing a second edition version of my boxed set "Undercovers" -- this is a 4-novella set about undercover police officers (& it also includes one cool cat!). The boxed set will be offered at a new, lower price for a limited time at Changeling Press. Yea! See below for details.

In other news, I'm working on "One Naughty Winter Night" for my next release. This is a prior Ellora's Cave holiday novella. I hope to release it in September or October, so watch for that.

If you want to receive my monthly newsletter in your email, please fill out the "Follow by Email" box on the right sidebar. It's fast and easy, and you'll never miss an issue.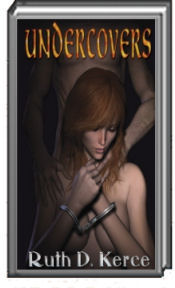 UNDERCOVERS (Suspense)
A Boxed Set

Women are endangered by a stalker, a killer, and the mob. Hunky cops -- plus one a feisty cat -- protect them with their lives. 4 sexy stories in one set. A complete serial.

Undercovers by Ruth D. Kerce
Copyright © 2017, Second Edition, All Rights Reserved
Copyright © 2008, First Edition, All Rights Reserved
Published by Changeling Press
Cover by Sahara Kelly
Available at Changeling Press
BUZZ:

Who knew 4 stories could be so hot. Undercovers is indeed hotter than any blazing inferno. The strong characters emit emotions that grab the reader and never once allow this story to be put on hold. Captivates from the first page to the last... These four scrumptious stories are indeed one mind-blowing read - Linda L., The Romance Studio


As always, I want to say a big thank you to all the readers who have enjoyed my tales over the years. Be sure to check out my self-published stories at Amazon, as well as my additional titles at Changeling Press. Your support means more than words can say. Happy reading!
=*=*=*=*=*=*=

See You Next Month!

Home Page URL: http://www.ruthkerce.com
Webmaster/Editor - Ruth D. Kerce (RDKerce@aol.com)

Ruth D. Kerce
c/o Changeling Press LLC
P.O. Box 1046
Martinsburg, WV 25404






~~~~~~~~~~~~~~~~~~~~~~~~~~~~~~~~~~~~

Copyright © 2002-2017, Ruth D. Kerce. All Rights Reserved.

The newsletter may be forwarded in its entirety to interested parties; however, no portion may be reprinted without written permission from Ruth D. Kerce. Contributed quotes and articles remain the property of each respective author. Please respect all copyright laws.

Commissions/Royalties are received from recommended products contained herein.

~~~~~~~~~~~~~~~~~~~~~~~~~~~~~~~~~~~~