Hello Readers!

Merry Christmas and Happy New Year. Hug your loved ones and let them know how much they mean to you. Nothing is more important than family and friends. Although books are right there near the top too!

Because of multiple medical issues with my family and me, I'm just going to re-promo my Christmas stories below for this newsletter. I'm keeping good thoughts that everything will be back to normal on my end soon.

Hopefully, I'll have another release ready -- a re-release for some readers and a new read for others -- by the time the next newsletter comes out. ::keeping my fingers crossed::

I'm praying that 2018 is a good year for us all. Take care and happy reading!

Remember, if you want to receive my monthly newsletter via email, please fill out the "Follow by Email" box on the right sidebar. It's fast and easy, and you'll never miss an issue.




ONE NAUGHTY WINTER NIGHT (Contemporary)

She's in love with her best friend. He's also in love with his best friend. With Christmas near, one naughty winter night, two friends find their way to each other.

One Naughty Winter Night by Ruth D. Kerce
Second Edition © 2017, First Edition &copy 2006
Published by Ruth D. Kerce
Stock Cover Photo from 123rf.com
Available at Amazon

"Spicy...curl your toes sex" - Sinclair Reid, Erotic RRT (EC Version)
FREE for Kindle Unlimited Subscribers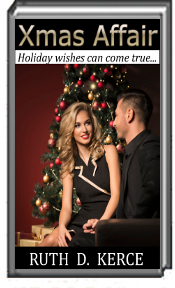 XMAS AFFAIR (Contemporary)

There's no hunk to kiss under the mistletoe, until a past love reappears in her life. He left her once. Can she learn to trust him again? Does she even want to?

Xmas Affair by Ruth D. Kerce
Copyright © 2011
Published by Ruth D. Kerce
Stock Cover Photo from 123rf.com
Available at Amazon

FREE for Kindle Unlimited Subscribers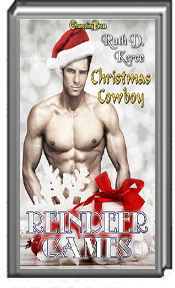 CHRISTMAS COWBOY (Contemporary)

He breeds horses, so what's a cowboy do with reindeer? She knows he can breed & sell the reindeer, if he'll only believe. Together they find their miracle and also love.

Christmas Cowboy by Ruth D. Kerce
Copyright © 2015
Published by Ruth D. Kerce
Cover by Bryan Keller
Available at Amazon, B&N, Changeling Press

"Delightful Christmas story" - Isis, Sizzling Hot Books



As always, I want to say a big thank you to all the readers who have enjoyed my tales over the years. Be sure to check out my self-published stories at Amazon, as well as my additional titles at Changeling Press. Your support means more than words can say. Happy reading!
=*=*=*=*=*=*=

See You Next Month!

Home Page URL: http://www.ruthkerce.com
Webmaster/Editor - Ruth D. Kerce (RDKerce@aol.com)

Ruth D. Kerce
c/o Changeling Press LLC
P.O. Box 1046
Martinsburg, WV 25404






~~~~~~~~~~~~~~~~~~~~~~~~~~~~~~~~~~~~

Copyright © 2002-2018, Ruth D. Kerce. All Rights Reserved.

The newsletter may be forwarded in its entirety to interested parties; however, no portion may be reprinted without written permission from Ruth D. Kerce. Contributed quotes and articles remain the property of each respective author. Please respect all copyright laws.

Commissions/Royalties are received from recommended products contained herein.

~~~~~~~~~~~~~~~~~~~~~~~~~~~~~~~~~~~~