Hello Readers!

I'm still working on the next release. I'm thinking it's going to be maybe October before it's out. I don't have that much editing left to do, but finding the time... I also do ghost-blogging for several platforms, and that's taking up a lot of my time. I'm thankful for the work, but I do miss the fun of writing fiction. Regardless, I will be getting the rest of my books back out, and I have some new stuff in the pipeline too. I might be 150 years old before I can get to it all. LOL

I'm just going to rerun last month's promo -- like I usually do when I don't have anything new. I'll change it up next month and promo some stuff appropriate for Halloween, which will be here before you know it. I love the paranormal stuff because there are so many plots, twists, and just all around weirdness involved.

Remember, if you're reading this on my blog and want to receive my monthly newsletter via email, please fill out the "Follow by Email" box on the right sidebar. It's fast and easy, and you'll never miss an issue.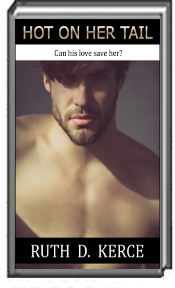 HOT ON HER TAIL (Suspense)

They met in high school and had a one-night stand. They never saw each other again. Now drug dealers are after her. Will she accept his help or try to go it alone?

Hot on Her Tail by Ruth D. Kerce
Second Edition © 2017, First Edition &copy 2010
Published by Ruth D. Kerce
Stock Cover Photo from 123rf.com
Available at Amazon

"A fervently hot, thrilling, colorfully dangerous suspenseful read that had me hanging on the edge of my seat" - Contessa, Fallen Angel Reviews (EC Version)

"Drops you in the heat of the action, takes you on a wild ride...and an ending that I hadn't seen coming" - RomanceReader, Seriously Reviewed (EC Version)

FREE for Kindle Unlimited Subscribers




As always, I want to say a big thank you to all the readers who have enjoyed my tales over the years. Be sure to check out my self-published stories at Amazon, as well as my additional titles at Changeling Press. Your support means more than words can say. Happy reading!
=*=*=*=*=*=*=

See You Next Month!

Home Page URL: http://www.ruthkerce.com
Webmaster/Editor - Ruth D. Kerce (RDKerce@aol.com)

Ruth D. Kerce
c/o Changeling Press LLC
P.O. Box 1046
Martinsburg, WV 25404






~~~~~~~~~~~~~~~~~~~~~~~~~~~~~~~~~~~~

Copyright © 2002-2018, Ruth D. Kerce. All Rights Reserved.

The newsletter may be forwarded in its entirety to interested parties; however, no portion may be reprinted without written permission from Ruth D. Kerce. Contributed quotes and articles remain the property of each respective author. Please respect all copyright laws.

Commissions/Royalties are received from recommended products contained herein.

~~~~~~~~~~~~~~~~~~~~~~~~~~~~~~~~~~~~