Hello Readers!

I finally have some good news. Yea! I have not one but TWO releases to announce. Okay, they're not exactly NEW to those of you who have been with me a long time. But they'll be of interest to you newbies.

The first release is a Christmas anthology with 13 authors from Changeling Press. It includes my short story "Christmas Cowboy." This collection is also available in print. I just got my copies. Gorgeous and BIG. The second announcement is that I finally re-released my former EC novella, "Adam 483: Man or Machine?" I love the cover on this one!

So, what's next for me? I'll be re-releasing a couple of paranormal stories, I think. I'll have more news about that in the future, so keep reading my blog for the information.

Remember, if you're reading this on my blog and want to receive my monthly newsletter via email, please fill out the "Follow by Email" box on the right sidebar. It's fast and easy, and you'll never miss an issue.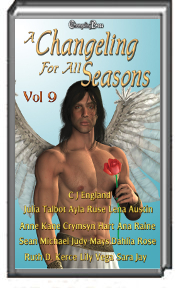 A CHANGELING FOR ALL SEASONS - Vol. 9
(Christmas Anthology) - ebook & print

13 tales of Christmas Magic from your favorite Changeling authors! Includes "Christmas Cowboy" by Ruth D. Kerce. What's a cowboy suppose to do with a herd a reindeer?

A Changeling for All Seasons - Vol. 9 by Ruth D. Kerce, et.al.
© 2018, Published by Changeling Press, Cover Art by Bryan Keller
Available at Amazon

"Ms. Kerce has an incredibly descriptive writing style that pulled me into every single scene. The saucy dialogue made me grin. I liked seeing how their banter carried over into the sex scenes, too." - Astilbe, Long and Short Reviews


ADAM 483: MAN OR MACHINE? (Science Fiction) - ebook only

After meeting his new commander, Adam becomes her security bot and her eroti-bot. He has a secret that can kill him unless he can gain her trust.

Adam 483: Man or Machine? by Ruth D. Kerce
Second Edition © 2018, First Edition © 2008
Published by Ruth D. Kerce, Cover Stock Photo from 123rf.com
Available at Amazon

"A great, fast-moving story...fabulous!" - Serena, FAR
"Captivating...awesome read" - Frauke, Mon Boudoir
"Highly recommended" - Angela Camp, Erotic RRT
"Pulls you in from page one" - Angel Brewer, TRS


As always, I want to say a big thank you to all the readers who have enjoyed my tales over the years. Be sure to check out my self-published stories at Amazon, as well as my additional titles at Changeling Press. Your support means more than words can say. Happy reading!
=*=*=*=*=*=*=

See You Next Month!

Home Page URL: http://www.ruthkerce.com
Webmaster/Editor - Ruth D. Kerce (RDKerce@aol.com)

Ruth D. Kerce
c/o Changeling Press LLC
P.O. Box 1046
Martinsburg, WV 25404






~~~~~~~~~~~~~~~~~~~~~~~~~~~~~~~~~~~~

Copyright © 2002-2019, Ruth D. Kerce. All Rights Reserved.

The newsletter may be forwarded in its entirety to interested parties; however, no portion may be reprinted without written permission from Ruth D. Kerce. Contributed quotes and articles remain the property of each respective author. Please respect all copyright laws.

Commissions/Royalties are received from recommended products contained herein.

~~~~~~~~~~~~~~~~~~~~~~~~~~~~~~~~~~~~