Hello Readers!

It's getting close to Valentine's Day! So, of course, I'm going to promote my Valentine-themed books -- well, a short story and a novella. Even if you don't have that special someone to spend the day with, you can enjoy the holiday with some good reads and a lot of chocolate (chocolate is good for EVERYTHING).

If you do have someone special to spend Valentine's Day with, remember how blessed you are and always appreciate the other person, even when they're sometimes a pain (LOL). Every moment with someone you love is precious.

Remember, if you're reading this on my blog and want to receive my monthly newsletter via email, please fill out the "Follow by Email" box on the right sidebar. It's fast and easy, and you'll never miss an issue.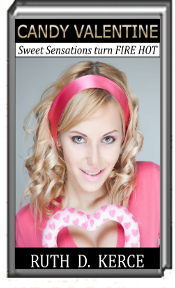 CANDY VALENTINE (contemporary holiday story)

Sweet sensations turn fire hot when Candy goes to work in a goodie shop, owned by her former flame. Will their old feelings emerge into a new relationship?

Candy Valentine by Ruth D. Kerce
Copyright © 2012
Published by Ruth D. Kerce, Cover Stock Photo from 123rf.com
Available at Amazon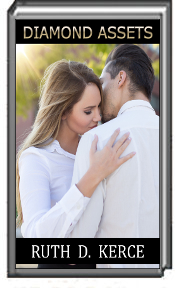 DIAMOND ASSETS (Light BDSM holiday story)

He's shunned love since his wife left him for his sexy female assistant. His new assistant is not at all sexy. Perfect! But will a night at Bondage Bay change his mind?

Diamond Assets by Ruth D. Kerce
Second Edition © 2017, First Edition © 2005
Published by Ruth D. Kerce, Cover Stock Photo from 123rf.com
Available at Amazon

"Ms. Kerce has written a very romantic and carnal story that is all about the uncontrolled longings one has in life, and how it takes a special someone to satisfy those longings." - Sarah W, TRS


As always, I want to say a big thank you to all the readers who have enjoyed my tales over the years. Be sure to check out my self-published stories at Amazon, as well as my additional titles at Changeling Press. Your support means more than words can say. Happy reading!
=*=*=*=*=*=*=

See You Next Month!

Home Page URL: http://www.ruthkerce.com
Webmaster/Editor - Ruth D. Kerce (RDKerce@aol.com)

Ruth D. Kerce
c/o Changeling Press LLC
P.O. Box 1046
Martinsburg, WV 25404






~~~~~~~~~~~~~~~~~~~~~~~~~~~~~~~~~~~~

Copyright © 2002-2019, Ruth D. Kerce. All Rights Reserved.

The newsletter may be forwarded in its entirety to interested parties; however, no portion may be reprinted without written permission from Ruth D. Kerce. Contributed quotes and articles remain the property of each respective author. Please respect all copyright laws.

Commissions/Royalties are received from recommended products contained herein.

~~~~~~~~~~~~~~~~~~~~~~~~~~~~~~~~~~~~